CommTech talks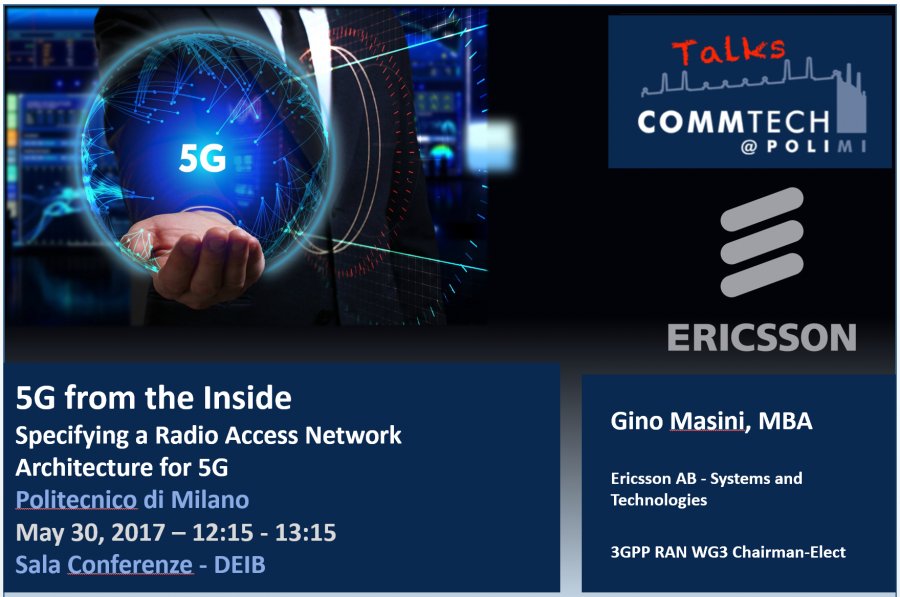 5G from the Inside: Specifying a Radio Access Network Architecture for 5G

Gino Masini
MBA, Ericsson AB - Systems and Technologies; 3GPP RAN WG3 Chairman-Elect

DEIB - Conference Room (building 20)
May 30th, 2017
12.15 - 13.15 pm


Sommario
On
May 30th, 2017
at
12.15 pm
, CommTech Talks will take place at
DEIB Conference Room
.
Radio Access Network (RAN) architecture is transforming, as 4G evolves into 5G, with applications like ultra-low latency communications (URLLC), massive Machine-Type Communications (MTC), and others.
The 3GPP standard-development organization is developing specifications for 5G New Radio (NR) systems. The requirements include: support for virtualization and centralization of network functions, separation of control plane and user plane, deployment flexibility, and the possibility to reuse some network protocols toward non-3GPP radio networks (e.g. WLAN).
After a first study phase in early 2017, the 3GPP RAN3 working group is intensively elaborating the NR access network architecture specifications, to be ready for a first release by December 2017.
The seminar will present the current status of 3GPP NR activity, and will discuss challenges and trade-offs.
Registration:
http://tinyurl.com/commtechpolimi
CommTech Talks @ POLIMI
are a series of seminars and panels organized weekly by the study program in Telecommunications Engineering and the master of science track in Internet Engineering of Politecnico di Milano for stimulating the networking between students and people from industry and research.
Biografia
Gino Masini, MBA, Ericsson AB - Systems and Technologies; 3GPP RAN WG3 Chairman-Elect.
Working with 4G and 5G mobile network architectures, concepts, and studies; active in standardization in 3GPP (RAN WG3 Chairman-Elect), in the past in ETSI, ITU, CEPT, and occasionally in the Small Cells Forum. From 1999 to 2009, Product and System Manager for Ericsson R&D in Italy, first working with microwave antennas and network planning, and later with MMIC design. Supervised deployments to key customers worldwide. Before 1999, researcher at the Dept. of Electronics of Politecnico di Milano, working with microwave propagation for satellite telecommunications (with Aldo Paraboni), on European Space Agency and Italian Space Agency projects. More than 30 patents granted (most of them standards-essential) on wireless telecommunications; author of about a dozen scientific articles; holds a "Six Sigma" certification. Alumnus of Politecnico di Milano, SDA Bocconi School of Management, and the "G. Verdi" Conservatory of Music (10th year Piano Diploma).