IMRR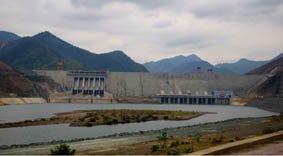 Research Area:

Research Lines:


Project abstract
The IMRR project aims at developing and promoting strategies for the sustainable management of the Red-Thai Binh Rivers System in Viet Nam, through coordinated decision-making and negotiation, supported by modelling and optimization tools and through capacity building of local authorities in the water sector.
The Project is funded by the Italian Ministry of Foreign Affair as part of its development cooperation program.

The Red-Thai Binh Rivers basin is the largest of Viet Nam. Despite the construction of several large-scale reservoirs (Hoa Binh, Thac Ba, Tuyen Quang and Son La), lack of coordination and inefficient operation of the reservoirs have resulted in frequent water shortages causing loss of agricultural production, interruptions to navigation, increased pollution and environmental degradation. Conflicts among water uses in the basin, including hydropower production, flood control and water supply, and negative impacts on long-term sustainability (e.g. hydrological alteration, river aggradation and salt intrusion) are expected to increase under the combined pressure of increasing water and energy demand, and climate change.

The goal of the IMRR project is to improve water management practice in the Red-Thai Binh Rivers system with the purpose of meeting Vietnamese society's long-term needs for water resources while maintaining essential ecological services and improving the economic benefits from hydropower production and agriculture.
Specifically, the project goals are: to improve the efficiency, effectiveness and environmental sustainability of water management in the basin through advanced modelling tools and supporting stakeholders dialogue, coordination and negotiations; to enhance capacity in water governance by favoring experience-sharing and the transfer of expertise, methodologies and tools to Viet Nam.

Project results
The project started in Feb-2012, and ended with the final Basin Meeting on Nov-2015 and a
Residential School
in Feb-2016.
The
results
are synthesized in the
Executive Summary
, and extensively presented in 8 Reports and 75 Papers on journals and conferences, of which 25 concern the project results themselves and 50 the methodological tools developed within the project or in its setting up (2009-2011).