Zanchettin and Rocco patented a new collaborative robotic system
July 25th, 2016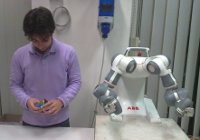 Abstract
Andrea Zanchettin
and prof.
Paolo Rocco
patented a new collaborative robotic system.
The interaction between humans and robots becomes more frequent every day in industrial field. To ensure safety in the workplace, up to now, the machines were designed to stop after the contact with the human operator. With the new Politecnico patent, the robot can find alternative strategies, without stopping or slowing down the manufacturing process.
Thanks to some vision sensors, the system identifies the presence and the position of the worker and modifies in real-time the behaviour of the robot, in order to ensure a safe co-operation with human co-workers and minimize the injury risk, without modifying the end-effector motion.
Among the advantages of this system, there are a greater speed in the execution of the tasks, the industrial profitability of tasks and greater energy efficiency.
Further information is available at
http://www.scienze.rai.it