IT2RAIL: the project for a new seamless travel experience
November 28th, 2017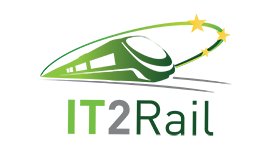 Abstract
The
IT²RAIL
(Information Technologies for Shift to rail) project, one of the lighthouse projects of
SHIFT²RAIL Innovation Programme
, aims at providing a new seamless travel experience, giving access to a complete multimodal travel offer which connects the first and last mile to long distance journeys.
This is achieved through the introduction of a ground breaking Technical Enabler based on two concepts:
The traveler is placed at the heart of innovative solutions, accessing all multimodal travel services (shopping, ticketing, and tracking) through its digital "Travel Companion".
An open published framework, based on the usage of Semantic Web technologies, is providing full interoperability whilst limiting impacts on existing systems, without prerequisites for centralized standardization.
The results of the project and a first Pilot will be presented at the
TRA
(
Transport Research Arena
) conference, to be held in Vienna on April 2018.