Fugini presents Co-production in the Public Sector
October 7th, 2016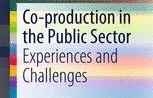 Milano - Università Statale, Dipartimento di Economia, Management e Metodi Quantitativi (Via Conservatorio, 7)
November 16th, 2016


Abstract
Mariagrazia Fugini
, DEIB professor, will present the book "
Co-production in the Public Sector. Experiences and Challenges
" at the II Italian Workshop on "Co-Production and Pubblic Services", which will be held on
November 16th, 2016
in Milan.
The editors of this book, published by SpringerBriefs in Applied Sciences and Technology, are Mariagrazia Fugini, Enrico Bracci and Mariafrancesca Sicilia.
The book deals with co-production, that is an umbrella term whose meaning has been widely debated on and whose practical consequences for public service delivery are an open research issue.
This book defines what co-production is and what it is not, overviews up-to-date literature, and presents contributions in various areas. The Chapters address Co-production and Inter-organisational Collaboration in the Provision of Public Services, the Participatory Budgeting as a Form of Co-production, Personalisation as a Form of Co-production (the case of Personal Budgets Reform in English Social Care), the Case of an Italian Residential Care Home and in Healthcare. Finally, an eye is given ont Co-production for achieving Cities Smarter through Citizens' and on The Role of ICT in Co-Production of e-Government Public Services.
The brochure of the event is available in the attached file.