Facebook Infrastructure: making the world more Open and Connected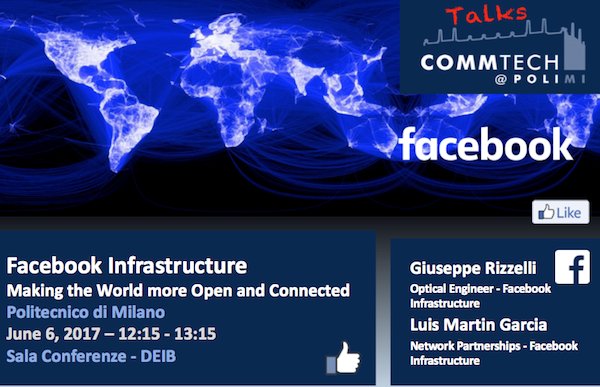 Giuseppe Rizzelli
Facebook Optical Engineer

Luis Martin Garcia
Facebook Network Partnerships

DEIB - Conference Room (building 20)
June 6th, 2017
12.15 - 13.15 pm


Abstract
On
June 6th, 2017
at
12.15 pm
, CommTech Talks will take place at
DEIB Conference Room
.
Facebook's mission is to make the world more open and connected.
Through its growing family of apps and services, people around the world can connect and share what matters most to them.
Facebook Infrastructure team is responsible for designing, implementing and operating one of the world's largest and complex global IT infrastructures in the world.
This presentation will discuss the core engineering principles behind the design and operation of a network that spans the whole globe to connect billions of users, how Facebook builds some of the hardware devices that power its data centers, and finally the way designs are open sourced for the community to innovate upon.
Follow the speaker and discover the technical challenges and issues that stand behind the scenes.
Registration:
http://tinyurl.com/commtechpolimi
CommTech Talks @ POLIMI
are a series of seminars and panels organized weekly by the study program in Telecommunications Engineering and the master of science track in Internet Engineering of Politecnico di Milano for stimulating the networking between students and people from industry and research.