Discover Careers: Consultancy and Finance Sectors Fair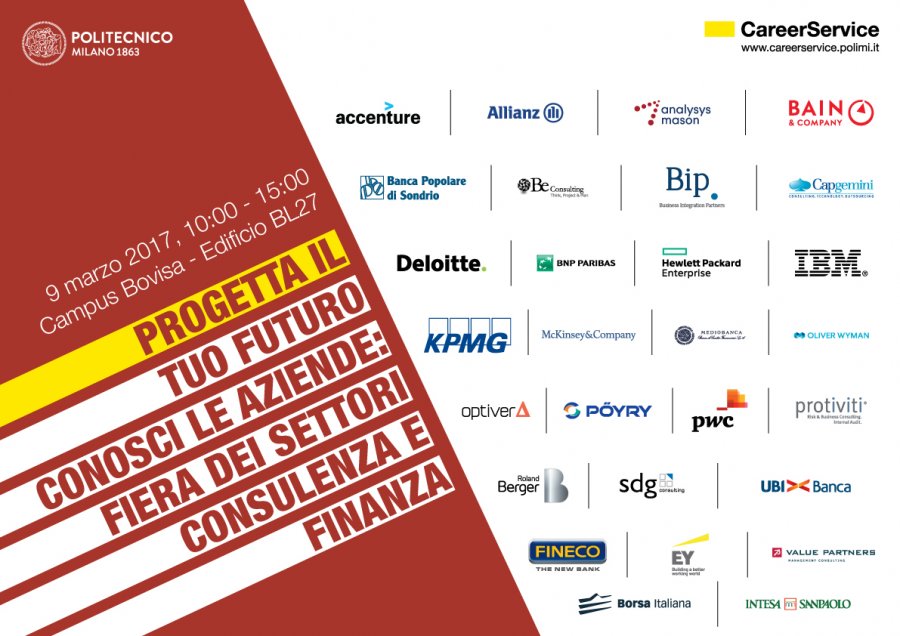 Politecnico di Milano - Bovisa Campus, Building BL27 (via Lambruschini 4, Milano)
March 9th, 2017
10.00 am - 3.00 pm


Abstract
On
March 9th, 2017
, from
10.00 am
, on the ground floor of the building BL27 in Bovisa Campus, the
Career Service
will hold a meeting to discover the opportunities at the financial companies.
During the event students can meet two different business sectors. There will be Consultancy companies that operate in strategic, management and organizational fields. Furthermore, students have the chance to meet representatives of the Finance world, that will explain to them their experience in important banking groups, insurance companies, investment banks and Stock Exchanges.
During the event, it will be possible:
• to get to know the consultancy and finance sectors and their job markets;
• to visit the stands of the many employers;
• to introduce themselves and get all the information students need to find their way in these fields;
• to discover the professional roles students are interested into;
• to learn how to find an internship during the academic career or after graduation;
• to apply for current open positions.
Participants will meet each company leaving one copy of their CV in Italian and in English language to each company representative who will help students understand which are the growth opportunities in those sectors, what kind of employment contracts are offered and how the recruiting processes are organized.
The Polimi students of Computer Science and Engineering, Management Engineering, Mathematical Engineering and Engineering Physics, are invited to register and attend the event.
Further information is available at
http://www.careerservice.polimi.it